My new book is now available!  Join upcoming virtual or in-person book launch parties
VIRTUAL
Virtual book talk Tuesday, October 10. Two options: 1 pm ET or 7 pm ET. Click the link below to reserve your spot. I'll send the Zoom link a few days prior. Hope to see you there!

Book Launch party in Cherry Creek (Denver, Colorado) on Tuesday, November 7 from 5 pm - 7 pm MT. This fun event will be sponsored by Grüvi, makers of delicious non-alcoholic Prosecco, wine, and beer. Snacks by Native Foods vegan café. For details, click the button below. I'd love to see you there!
IN-PERSON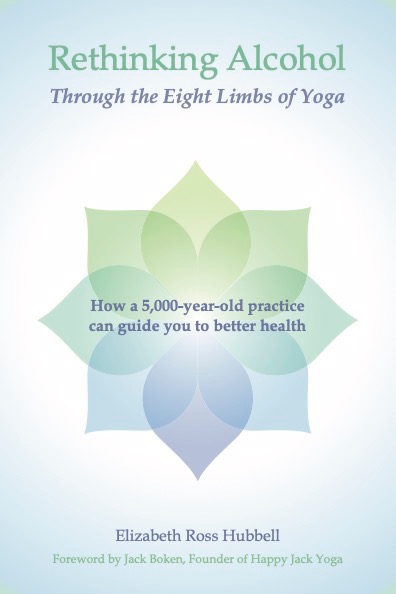 "Elizabeth's approach of using yoga philosophy to create a healthier relationship with alcohol is a revolutionary way to bring your day-to-day challenges into your practice." — Sarah Beth of Sarah Beth Yoga
"Elizabeth's message is much-needed in today's fast-paced world of indulgence, numbing out, and avoiding discomfort."  — Jack Boken, Founder of Happy Jack Yoga from his Foreword
"This is a must-read for the yogi wanting to heal their relationship with alcohol in a conscious way." — Glenda Hoon Russell, Nature Therapy Guide and author of Status Foe
"An interesting and modern perspective that weaves abstinence and yoga in a way I've never experienced." — Pam Tibbs, The Resilient Restaurateur
"This book is a beautiful balance of story and statistics that will surprise and challenge the reader. A must-read for anyone who is sober curious, or just curious, in general, about the impact alcohol has on individuals and society." — Cate Sommervold, author of Moral Imagination

"Your example is a light to others and having all your heartfelt words together in this book will, I know, be a support for anyone looking to deepen not only their yoga practice, but also the commitment to living their best life." — Alice Griffin, Wandering Writer and Yoga Teacher

"With a compassionate and non-judgmental approach, the book and the journal prompts encourage the reader to examine their personal habits and attitudes towards alcohol, fostering self-awareness and self-empowerment." — Peace Ransom, Sound Healer & Yoga Teacher

About Me
I am an RYT-500 certified yoga instructor and freelance writer passionate about living a plant-based, alcohol-free life. I host a monthly online gathering for those rethinking alcohol in their lives. In March of 2023, I completed a 100-hour spirituality immersion in Rishikesh, India to deepen my understanding of yoga. 
Previously, I was an instructional designer with a background in K12, higher ed, and adult learning. I am co-editor of Thriving as a Woman in Leadership in Higher Ed (2021) and co-author of six books on instruction including Instructional Models: How to Choose One, How to Use One (2019), The 12 Touchstones of Good Teaching (2013),  and Classroom Instruction that Works, 2nd ed. (2012). I have a BSEd from UGA in Education. MA from UC-Denver in Information & Learning Technologies.